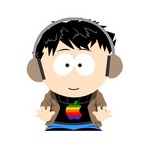 On May 10th, 13:15 PM at Main
Ruby Archaeopteryx Talk is about the creation of midi clips with Ruby code. On a first demo I will show you how to implement an easy drums Machine using Ruby Midi standard libraries to make a complete song by launching pre loaded audio clips on the Drum Machine.
A second part of the talk show the audience how to implement a script to manipulate Reason Software synthesizer with the library Ruby Archaeopteryx developed by Giles Bowkett.
In order to improve the knowledge of midi interfaces and how do they work, there will be a short brief about it and a little demo with a VCI digital mixer, and a Axiom 25 keyboard.
For the last two weeks I'm been think about an hypothetical DSL to create music. We will discuss it in Barcelona ;)
Rate of this talk

(20 votes so far)